Ultimate Image has been designing and updating commercial landscapes for over a decade. We create affordable landscape designs that are both beautiful and tolerant to Central Florida's ever-changing weather patterns. We have created commercial designs for both large and small businesses throughout Orlando. When creating or updating designs for business landscapes, our focus is on creating beautiful designs that are personal to the businesses they belong to. A beautiful landscape provides eye-pleasing curb appeal to potential customers. From the common areas to the parking lot, we strive to provide businesses like yours with a design that makes you completely happy and always has that "wow factor".
We provide the best commercial landscaping and commercial lawn care services in the Orlando and Central Florida area. Don't pay too much. Contact us today for free quote.
Many companies in the Orlando area claim to specialize in both residential and commercial lawn care and landscaping. However, the truth of the matter is that typically, they will just take any customer their sales team can drum up. We at Ultimate Image Land Care, have set ourselves apart by providing only the highest quality landscape management for only commercial customers. This provides us the opportunity to focus on commercial irrigation repairs and installation, commercial fertilization, and our favorite HOA Landscaping.
Commercial landscape design is a vital and important part of any locally owned business with a physical location. Many business owners find themselves neglecting their commercial property's landscape simply because it's an afterthought. The property often becomes a bit "lack-luster" or tired looking. They feel as if the importance of the landscape doesn't really matter, but the truth is that it's one of the very first impressions potential clients or tenants sees. Having a current, attractive landscape design can set the tone in a customer's mind even before they open the door to your business.
When designing for commercial customers, commercial landscape design teams start by assessing your current landscape situation. Even though most commercial landscape designs in the Orlando, Florida are similar due to weather conditions, they all have their differences and are unique. These unique qualities and factors are a part of the planning and design process. The planning step of your landscape design will assess things like your budget, property shape, sun and shade percentages, soil conditions, and obstructions such as trees and fences. While there are many other factors that go into planning a unique design for your business landscape, these are some of the most important.
Design Phase
Our expert design team knows how to design spaces for a myriad of purposes. Whether you are looking for outrageous color or maintenance simplicity, we have a design for you.
Planning Phase
During the planning phase Ultimate Image Land Care will use the design as a basis for laying out the sprinkler, fertilization, and pest control needs of the overall design.
The planning phase is one of the most important times when your input is always appreciated. We love when our clients have gotten ideas and want to share them with us. Business owners or property managers often have ideas from other businesses they've seen or have gotten ideas from. After all, something you have seen or heard has made you want to reach out and start this process. Making a list or taking pictures is very helpful to give our local designer when planning your new design.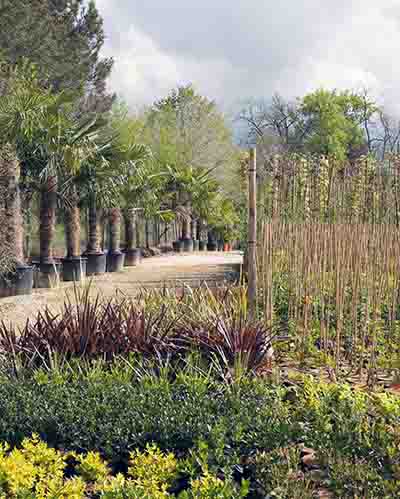 Ultimate Image Land Care maintains our own nursery filled with plants, commonly used by businesses and HOAs in Florida for their landscapes. We wanted to save our clients money by simply and effectively cutting out the middle man and passing the savings along.
Once the planning part of the design process is finished we will start to create your new design. The amount of time it takes to complete is unique and is determined by the complexity and size of the project. Our crew of professional, courteous landscapers will then get started creating your beautiful new design.
After completing your new design, we will seek your approval on the project. It will only be considered completed once you are happy and completely satisfied with your new commercial design. We then instruct you how to maintain and care for your newly created landscape design. If you need maintenance service for your landscape, we will be happy to discuss the available options that will best serve you and your business.
We specialize in becoming landscaping partners with Home Owners Associations (HOA). If you are an HOA and looking to begin a new landscaping project, we would love to help you. If you are simply looking for HOA landscaping services, we will be happy to help you find a solution that best meets the needs of your association.
If you are ready to create a landscape design for your new business or you want to update your existing one, feel free to contact us at your convenience. At Ultimate Image Land Care, we are happy to answer any questions you may have and we are always here to help!
Get Help Now
When it comes to commercial land care and maintenance, business owners and property managers all agree that Ultimate Image Land Care provides Orlando's best experience.
With over 30 years' experience serving Central Florida's businesses we are proud of the reputation we have acquired in that time. Businesses know that we are #1 in quality of work and reliability in customer service.
Having a quality maintenance service, for your landscape, is a vital part of keeping your business property's landscape in good condition. Call now to see if you are in our service area.
Installation Phase
During the installation phase ultimate image will ensure that the design is implemented per the original plan. This will include landscaping and any land features, water features, and lighting used for highlights.
Maintenance Phase
Our maintenance plans follow proven processes. Ultimate Image Land Care has over 20 years experience. Simply put, we know what works and we only implement proven processes.
First impressions mean a lot when it comes to people's perception of your business. The old saying about first impressions is: "You don't get a second chance to make a first impression". Most people, and even psychologists, completely agree with that statement.
Since everyone seems to agree that first impressions are so important, you probably should make sure that the first impression that your business has is amazing. And that's where Ultimate Image Land Care comes in.
We care deeply about the first impressions created with all of your customers. We're a business partner that helps you deliver an unforgettable experience each and every time.
Maintenance on your commercial landscape can include a variety of services that include, but are not limited to commercial lawn maintenance like: fall cleanup, spring cleanup, lawn mowing, trimming bushes and hedges, shrub care, edging, weed removal, sod installation, mulching, seasonal planting, tree care, and even landscape lighting.
Many smaller business owners and property managers think that commercial grounds maintenance is out of the reach due to their budget restrictions.
This couldn't be further from the truth when you calculate the time and expense required to maintain most commercial properties.
A lot of times people forget to calculate and add in things like fuel costs and equipment maintenance expenses. Simple lawn care can require: lawn mowers, edgers, weed eaters, blowers, sprayers and even more. Once all of these variables are added in it, it's often cheaper to hire a professional landscape maintenance company to simply do the work for you. Just make sure that the lawn care business is staffed by qualified and experienced lawn care professionals and lawn care specialists.
We know that each property and situation is different and unique. We can customize a service package to meet each and every business owner or property manager's needs and budget.
And let's face it, in Orlando's heat, no one wants to be outside pushing a mower around in the middle of our sweltering summer heat waves.
Often times we find ourselves being called by business owners or property managers to come fix issues caused by one of the many fly-by-night companies operating as "landscape experts" in the Central Florida area. Many times they chose to hire lawn care companies who do both commercial and residential property, based solely on price.
Many times, lack of proper watering or drought is confused with pest problems, lack of fertilization, etc.
Confusing these types of problems can have disastrous consequences on a landscape resulting in a costly replacement for the affected areas.
It is vital that any professional landscape business understands exactly what is happening in the landscape as a whole. Be sure to hire professionals from a locally owned and operated landscape management company, for your commercial real estate maintenance.
This is why researching and hiring a professional landscape company with a proven track record of success from the very beginning is of the absolute importance for any business owner or property manager looking for landscape management.
Ultimate Image Land Care provides a level of care and service that is unmatched in all of Central Florida. Many times our reputation proceeds us, and that's a fact that we are very proud of.
Do you have a new business and you are looking for a commercial landscape company with the track record of customer satisfaction or maybe you're a property manager and your current commercial landscape company simply isn't "cutting it" any longer?
If so, feel free to contact us so we can discuss your needs and create a unique plan that is right for you and your property.
Get Help Now